Connect with your social network account
Posts: 5
Joined: Mon May 22, 2017 11:22 am
I'd like to see what everybody is printing with...

I started with a makeblock mGiraffe delta printer. I would not recommend this to beginners.
It's modified now with the addition of a 20 amps power supply, a titan extruder with bowden setup, E3Dv6 hotend, Radds 1.5 on an arduino Due and RAPS128 stepper drivers. Nema 17 400 steps motors, all running on repetier Dev. I'v thrown an raspberrypi with repetier server in as well with the addition of a picam just for fun...here is a picture: I got this one as a gift and it opened my eyes to this amazing 3d printing world...I would love to get my hands on a Prusa i3 MK2S next....
---
Posts: 9
Joined: Sat May 27, 2017 5:49 pm
DMS DP5
Mods done:
Titan extruder, pancake stepper, E3DV6, Duet Wifi, BLtouch, 16t pulleys, x belt tensioner, fan upgrade, 1/8" mirror build surface.
Mods to do: Aluminum y carriage upgrade, 400 step motors on x and y, 4 start lead screws changed to single start, route and anchor x wiring better.
---
Posts: 85
Joined: Mon May 22, 2017 2:33 pm
It's in a mess right now so I don't think I can do that, it's a crimes against humanity...
---
Posts: 8
Joined: Thu May 25, 2017 1:16 pm
---
---
The i3 dolly itself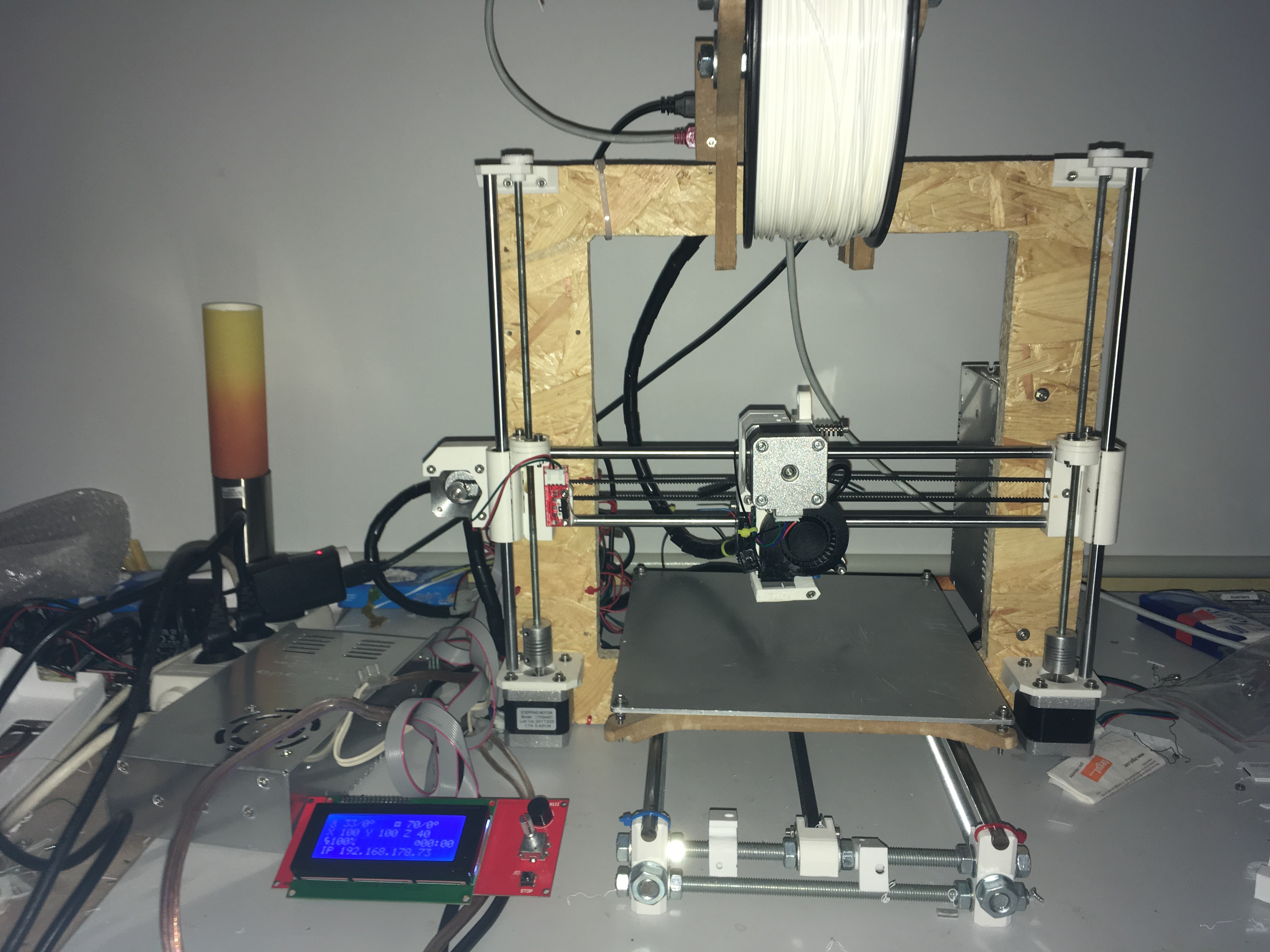 changed the bed to 24V today / now the MDF is broken (again) but still do the job
---
Here is my 3D printers. I also own a Davinci 2.0 (my first printer) not shown here.

My Prusa i2 is almost complete now. I'll update pictures. Just working on the fine tuning now.
---
1. My trusty SmartRap Core (18mm MDF)
Noisy as hell due to MDF box frame but print quality and consistency is outstanding.
2. HyperCube I've built few month back.
(Went with SS rods all the way through instead of ALU tubes or CF rods.)
Extremely quite, built for "night shift" printing (10 out of 10 of the WAF points
)
3. daVinci Jr 1.0 OpenMod (OpenMod = RAMPS 1.4 retrofit)
Actually I don't own it anymore, sold literally 3h ago on eBay.
4. Kossel 250 V-Slot Delta
Currently disassembled, mine was one of the early designs and due to some wear on plastic parts it was showing wear related artefacts.
Reprinted all parts from the new iteration design files, ordered some new parts. Will be reassembled in 1-2weeks. Will upload photo.
5. Up! Plus - good old Plus 1st gen on linear guide rails.
Currently undergoes big transformation. Block reballing (done), Marlin compatible electronics retrofit (RAMPS 1.4 is too bulky to fit into the base, need to buy something like MKS Base) and E3D v6 with 0.15 nozzle, yes 0.15!!!
140x140x140 build volume is tiny for 2017 but for 0.15 nozzle it is real estate.
This project is going slowly in comparison, 0.15 isn't easy.
Will upload photos later on.
---
Posts: 2
Joined: Wed May 24, 2017 1:34 pm
Another i3 dolly
And of course I had to build a stand for the printer
Needs a little wire managment still!
Build Video on Youtube
https://www.youtube.com/playlist?list=P ... JPvlUwN1dM
---
My Mendel is slowly coming along. it's been a real pain getting all the rods aligned. I'm using SAE 5/16" rods which were real cheap at HomeDepot.
My old Da Vinci that I've butchered over the years. I regret buying this thing, it came with the worse hotend that only supported ABS. I put E3D V6 hotends in it but looking to upgrade it with a Chimera hotend.

---
Who is online
Users browsing this forum: No registered users and 1 guest