Connect with your social network account
Posts: 15
Joined: Wed May 24, 2017 11:51 am
Hmm looks good. The Igus bearings have a little more play afaik. That shouldn't have any effect here.

I will try a solid coupler on my fabrikator as well ,even if the leadscrew is supported above the stepper motor.
---
Solid coupler on the Z-axis? I bought some solid couplers from ebay. They where all eccentric as hell. That will create a lot of Z wobble
I cannot use those
I also doubt that the problem has anything to do with the flexible coupling.
Let me first try to finish the extruder assembly
I think it is possible that the lines are created by the tyrap assembly.
It will take some time for me to finish this.
---
Posts: 15
Joined: Wed May 24, 2017 11:51 am
I got some random solid couplers in my new printer that peforms well. The motion system there might be immune to influence by the leadscrews though.
Looking forward to the results. Hope the bracket does the trick
---
Update!
I mounted the extruder. I'm fairly certain this thing isn't going anywhere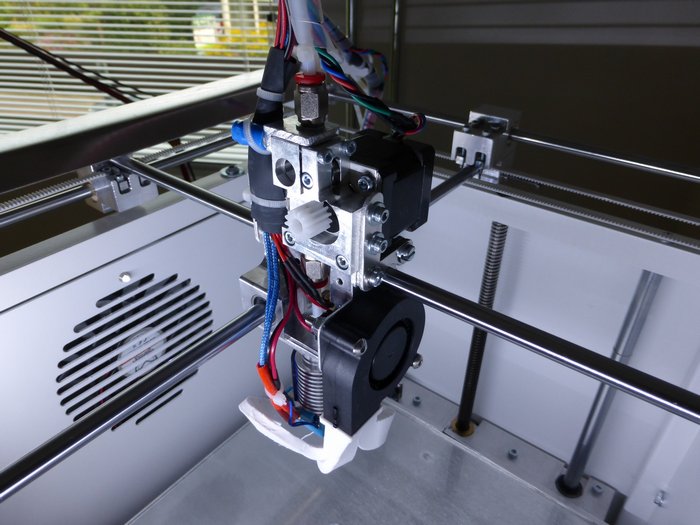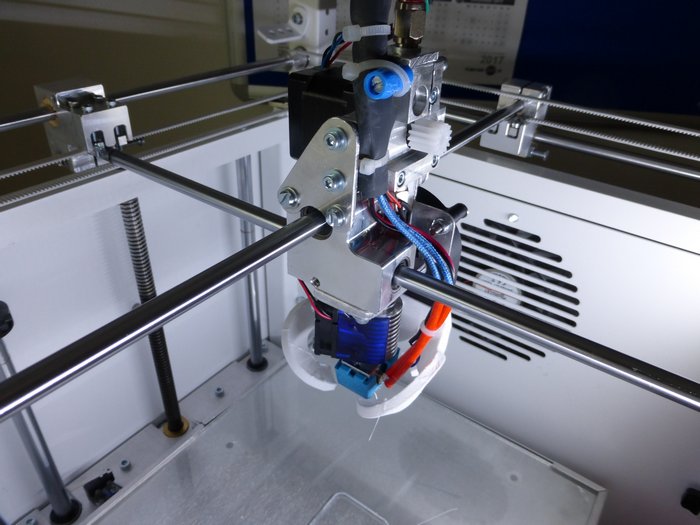 With the extruder wheel mounted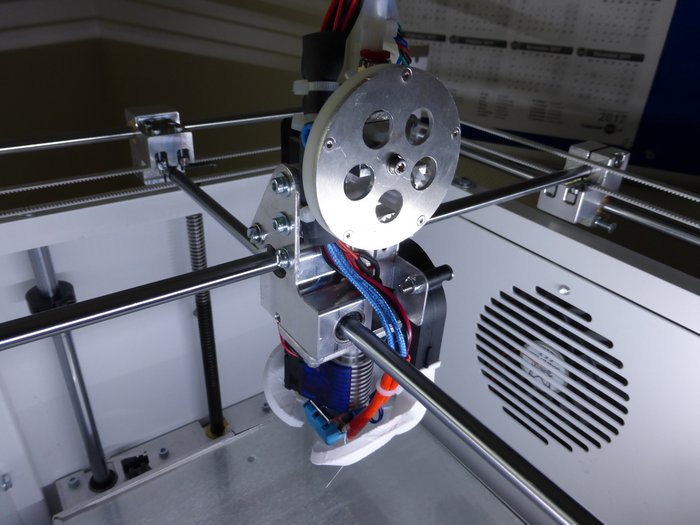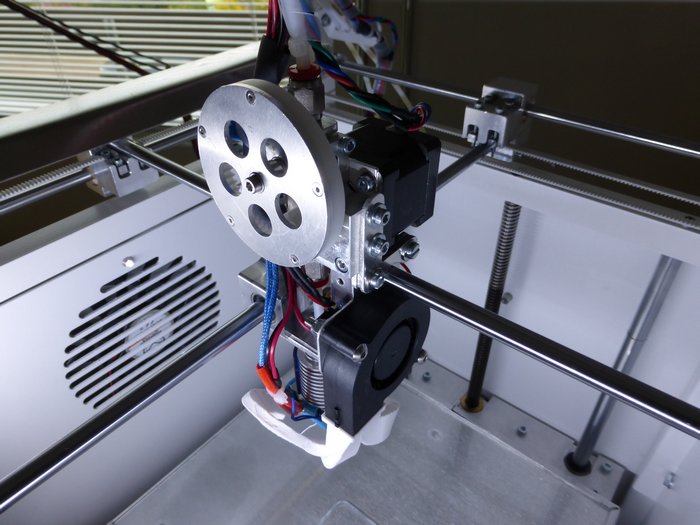 There is a reason for this rather stiff bracket system. I could see the extruder push itself up and down before I designed the brackets. The little bowden tube with its connectors was stretching a little bit. I eliminated any stress on this system by designing stiff brackets. Therefore the length between the extruder and nozzle has as less stretch as possible.
I Also noticed the extrude axis was bent. This printer ways a ton and perhaps something happened during the many times I took it apart
I got 6 extruders of this weird type so that was a easy fix.
Did it work? Partially yes. In the picture below you can see the difference between before and after fix. Left is before, right is after.
Picture
Sadly enough there are still lines in the print. But they are getting more repetitive. This is a good sign.
I think I can see the Z axis wobble a little bit. I will need to film this to be sure. That one will be next. I also noticed some squeaking noise from one of the belts. Something is out of line.
It is amazing how much more problems you can find when the printers is back on your desk instead of placed somewhere in the attic
I'm getting closer
---
Posts: 15
Joined: Wed May 24, 2017 11:51 am
That printhead assembly looks sweet
I did a bit more research in the meantime and found that the heatbed can cause this either through emv (emc) issues in the electronics or thermo mechanical deformation. I tried letting the bed off during the print and only saw slight improvements. I also stiffened my extruder mount and modified the y axis coupler. Will see tomorrow if that had helped in any way.
I definetely want perfect walls. No way around that and I´m pretty close i think.
---
That's interesting. Never thought that the bed heater could create emv (emc) issues in the electronics. That is a badly designed electronics board. I'm fairly certain this isn't the problem with my printer. I have a 230V bed heater with a SSR. I even rerouted the nozzle heater in such way that the current stays outside the circuit board. There is a diode on the power connection of my electronics board. Originally everything had to pass through this diode. All 15 amps!
That thing was insanely hot!
I have heard of thermo mechanical deformation of the bed. This is definitely not the case with my printer. My printer has a silicon heater attached to a aluminium plate with a glass plate on top of it. I even wait 10 minutes (PLA) after the temperatures hit there targets. This way the heat can fully penetrate the glass plate. That glass plate is a good insulator
Looking forward to your results!
---
Who is online
Users browsing this forum: No registered users and 2 guests