Connect with your social network account
That is interesting. I'm a bit further ahead with modifying the printer than you are. Here is a list of things I changed. This list won't be a complete list because that is impossible to remember!
Mechanics
- Replaced igus bearings with ball bearings at the top
- Replaced all aluminium rods. Not really necessary on all rods. Absolutely mandatory on all rods that have linear ball bearing on them!
- Replaced all belts. The pulleys are GDT2? pulleys and belts are MMX? I don't remember the names but this means that the pitch of the belts is different than the pitch of the pulleys.
- I also printed with the PVA nozzle. This nozzle has no cooling and will therefore ruin the PTFE tubes and get stuck. I replaced it with a E3D nozzle
- Most of the extruders have bend axles and completely suck. I stuck one of the extrudes on top of the print head. This was a big improvement over the 1m long PTFE tube.
- Replaced the glass print bed. It was severely bend.
- Modified the Z axis motor. Removed the internal spring washer and replaced it with a solid washer.
Electrics
- I'm using the original board. I retraced every track on the circuit board to the micro controller. What does that look like? Enjoy
Picture
- I upgraded the original board to accommodate a SD card reader. I also tried to stabilise the USB connection. I did get it a bit more stable but still not good enough to print with it.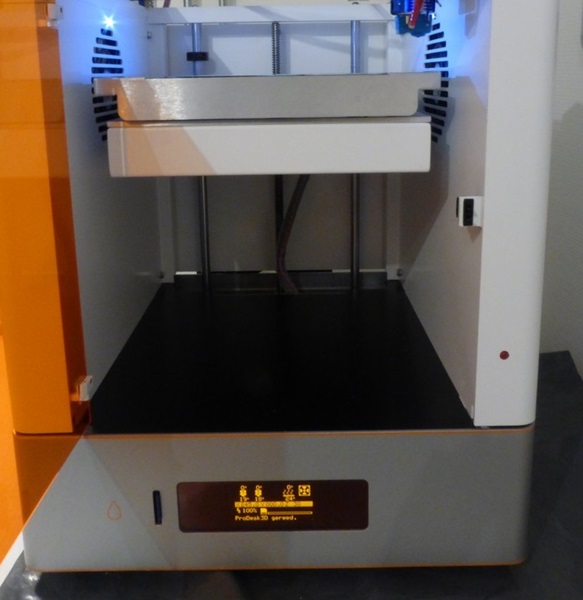 - I'm also retraced the original screen, so that one is also working
- Rerouted all the power of the heaters around the circuit board. The circuit board has a diode at the main power entrance which gets insanely hot.
- Added an emergency stop button
- I'm still using the original power supply
- Upgraded the printbed with a 500W silicon heater.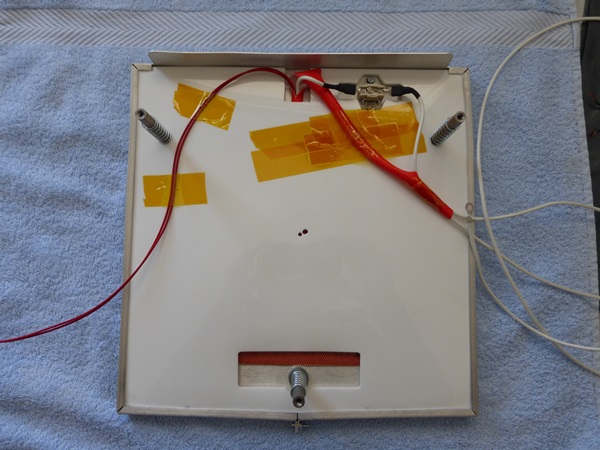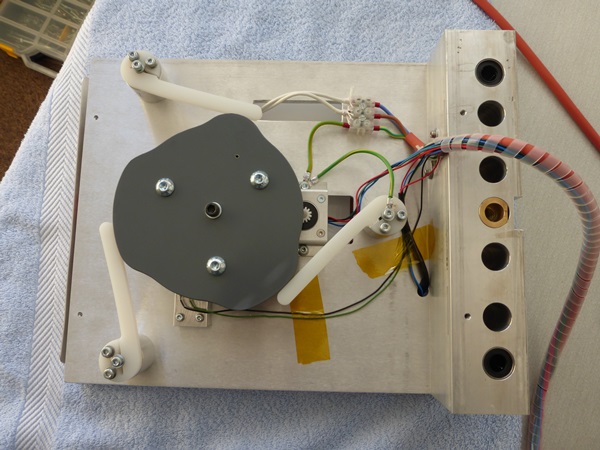 Firmware
- I'm using Marlin. I have the bed working and even have the original screen working.
Things to do
I also tried to relocate the motors but this was to difficult to do. You have to modify a lot to get this to work. I'm thinking about buying more accurate stepper motors. But I want confirm this issue first.
---
Update
I measured the inaccuracy of the X and Y axis.
I measured a 0.05mm inaccuracy on the head when moving the axis slowly 0.1mm forwards and backwards. I also measured the motor axis with the same movement. Around 0.026mm of the 0.05mm is caused by motor inaccuracy. The rest is unaccounted for. Most of this is probably belt stretch.
I also measured the inaccuracy at a worst case scenario. I pressed the head to one side and letting it return to its position and then the other side and letting it return to its position comparing the position results. This leads to a maximum position fault of 0.10mm between the two. Around 0.032 is caused by motor inaccuracy.
Conclusion
The print accuracy is within 0.05mm at best. Only 50% is caused by the motor. Replacing the 1.8 degrees stepper motor with a 0.9 degrees stepper motor will only improve my print accuracy by 25%.
At the other end of the spectrum is the worst case 0.1mm accuracy. That is horrible. However, changing the motor also doesn't help that much. I'm not sure what I'm going to do.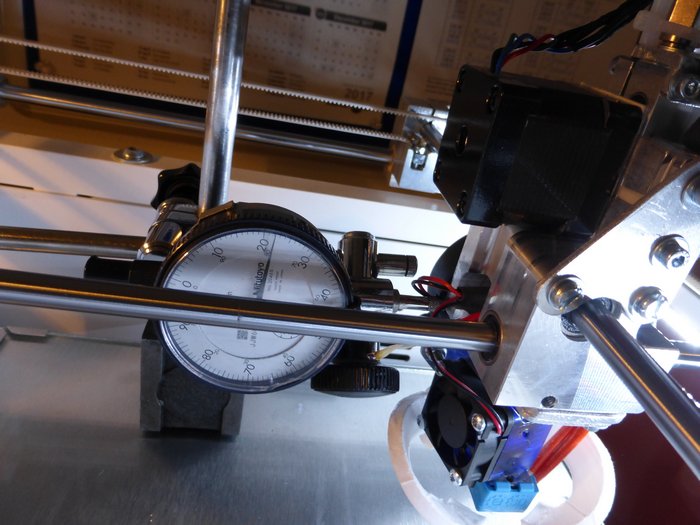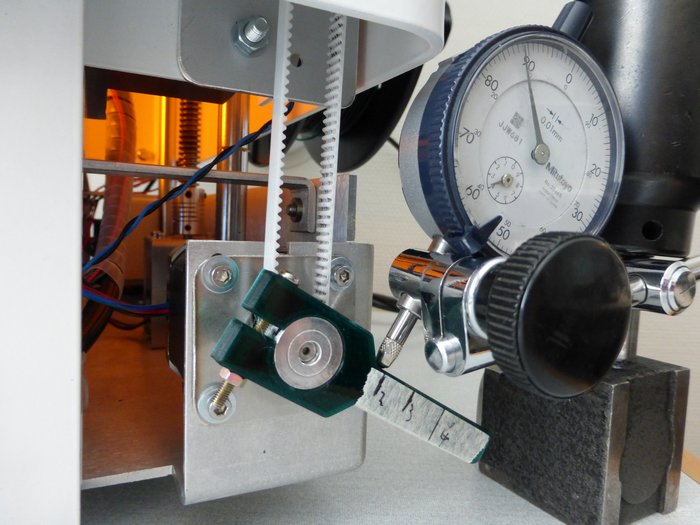 ---
Can you please upload your marlin code if you don't mind..or email it to me.
---
---
I also purchased this printer. So I have a few concerns...
Firstly, will the board support auto bed leveling? If so then it is not nessasary to purchase a ramps 1.4, but the firmware and layout of the board is still unknown to me, since you figured it Out, you will save a lot of time and effort.

But if you feel you worked hard to get the code just right, then I fully respect your opinion.
---
The board should support auto bed leveling. Not all the X Y and Z positive and negative connectors are used so you have some left over pins there that you can use. There are also a large amount of pins that go to the screen that are unused. You have more than enough options with this board.

Regarding the firmware. I don't have firmware that supports the original nozzle system. I do have two firmware versions that can somewhat work for you.

Version 1. (old version)
This version supports the original screen, although I really hacked the screen support in there. The original worthless bed leveling system is also supported in this version.

Version 2.(The one I'm currently using)
This has no automatic bed leveling system. Only manual. The original screen is replaced by a RepRapDiscount full graphic smart controller which is controlled by wire. I ditched the original screen.

However, I think the best option is to send you the pin layout of the board. Than you can do whatever you want.
---
Finally
Good day.
I'm a 2nd year student in South Africa and have bought a prodesk3D from my university for a cheap price just to find out that there is no reliable firmware supporting this printer. I have know idea what to do since all my finances were used in buying this ''non working'' printer.
Please would you be able to help my with firmware, I'm desperate.
Thank you
Would you be able to contact me via email?
marnusfer@gmail.com
Regards
Marnus
---
I am afraid I have to disappoint you. There is no firmware in world that makes this printer reliable. The printer is poorly designed in every single aspect. To give you an idea of the problems. Hereby a short list of the things I can recall from the top of my head.
The electronics board is unable to keep a stable USB connection. The board is useless without adding a SD card reader to it, which I have done.
The bed heater doesn't really work. It is floating beneath the bed which isolates the heater from bed pretty good
The circuit board is a large fire hazard in my opinion. It cannot handle both bed and nozzle heater.
Both original nozzles don't work
Original filament spools don't work
Most of the extruders are so bad (eccentric) that they won't work properly
They used the wrong type of belt on the pulleys. The pitch is incorrect
They used aluminium rods with steel linear ball bearings. The rods should be hardened steel
The bed leveling system is fundamentally flawed
Original software sucks
Original firmware is useless without the SD reader support
I think these are the biggest issues. But I could be wrong. It took me 1,5 years to get this thing to print properly. You can imagine that I cannot remember every change I made. There are so many changes!
If you don't want to redesign bloody everything, please sell the printer
This is why my firmware is more or less useless. My firmware is only compatible with my heavily modified printer. This is why I recommend sending you the pin layout of the board. Than you can make your own firmware for your own unique modified printer.
By they way. If you are desperate. Why didn't you retrace every single line on the circuit board? You could figure this out on your own if you really wanted to. Where do you think I got the pin lay out from?
---
Could you please then send me the pin layout... I don't have any experience programming or circuits at all
---
One more thing. I'm of course going to use a single nozzle like a v6 but can I just use the support nozzle instead?
---
Who is online
Users browsing this forum: No registered users and 2 guests