Connect with your social network account
Dear all,
I have a difficult issue with my mostly home build 3D printer. I have lines in my prints and I cannot figure out why.
Here are some hi resolution pictures.
Printed with a 0.4mm nozzle (e3d), 0.15mm layer height, PLA and slightly modified slic3r Prusa profile.
https://fransseo.home.xs4all.nl/Foto's/ ... nen/01.jpg
https://fransseo.home.xs4all.nl/Foto's/ ... nen/02.jpg
https://fransseo.home.xs4all.nl/Foto's/ ... nen/03.jpg
https://fransseo.home.xs4all.nl/Foto's/ ... nen/04.jpg
I think the cause of this is issue is one of the following 3 things
1) Problems with Z axis
2) Extruder issue
3) Position error X and Y axis
The extruder is fine as far as I can tell. It has more than enough resolution and ran some tests to figure out if the pusher wheel is eccentric. No problems there. The strange lines are not consistent between prints. Also the spacing between the lines varies. I cannot image this being a Z axis issue either
In short, I think this has something to do with the X and Y axis. I was surprised when I calculated the resolution of each axis for 1 complete step of the stepper motor (I have 16 intermediate steps). The Z axis has a resolution of 0.015mm which I think is enough for a 0.15mm layer height. The X and Y axis have a resolution 0.2mm. Isn't this a bit low for a 0.45mm line width?
What do you think? Could this be the cause?
---
Posts: 85
Joined: Mon May 22, 2017 2:33 pm
Did you check the filament diameter on various part of the spool(rare problem these day but still worth checking)
---
I did check this. The filament diameter is 1.75 ±0.1mm.
---
,2mm is pretty standard for 1/16th microstep 1.8 degree motors/drivers. Yes there's some play in the microsteps, but never more than half a microstep, so you're still accurate to about .00625mm, which I don't think you'd be able to see.

I'd check the tension on your belts, does your design have some kind of belt tensioner built into it for X and Y?
---
I do have belt tensioners. All belts are well tensioned.
Here are some pictures of the system. I still have to mount the extruder properly. Using tyraps isn't the best solution
https://fransseo.home.xs4all.nl/Foto's/ ... ter/44.jpg
https://fransseo.home.xs4all.nl/Foto's/ ... er/44b.jpg
https://fransseo.home.xs4all.nl/Foto's/ ... ter/45.jpg
https://fransseo.home.xs4all.nl/Foto's/ ... ter/46.jpg
I know, it doesn't look like a mostly home build printer. This printer was a BotObject Prodesk 3D printer which I highly modified to be able to print even a simple object
The original printer sucks on every possible level.
So not the X and Y axis stepper accuracy. Now it is getting difficult....
---
Looks like Z wobble to me. If you change the Z axis, do you see the rods moving at at all? Maybe the coupler isnt aligned properly or the rod not straight. These prints do look promising though, if you can sort out that issue.
---
Try a different stepper driver. I had this problem using A4988s, changing to a TMC2208 totally changed the sides of my prints, even with the same gcode.
the TMC2208s use a UART to configure the driver for spreadcycle mode, which you'll definitely want on the extruder.
They can also have their internal memory programmed permanently using a USB to TTL UART bridge.
They're configureable for full 1/128 stepping too, which is nice future profing if you plan to upgrade to a 32 bit controller soon.
2 20mm calibration cubes, same gcode.
one was with with A4988 @ 1/16 microstepping one was TMC2208 interpolating 1/16 to 1/128.
https://drive.google.com/file/d/0B1NdcJ ... sp=sharing
---
kfazz, Im having a real hard time spotting a difference between those prints, they both look fine to me, but whatever problems you thought you had, pale compared to fransjans'.
Have a look here:
http://doc.3dmodularsystems.com/how-to- ... z-woobble/
Look at those pics, they look exactly like the OP. The link also explains causes and possible remedies.
---
Posts: 39
Joined: Sat May 27, 2017 3:27 pm
I would opt for Z wobble also. Especially if it looks the same on all prints as you have mentioned before.
---
I agree that it looks like a Z axis problem. However, it is definitely not a normal Z wobble. The lines in the print are separated by variable distances. It is not consistent. Today I printed the same printjob twice and discovered that even the position of the lines vary between the two objects. The lines are always there but the position is incredibly inconsistent. This is what makes this problem so difficult.
I had a look at that link but that is a different problem. That is normal Z wobble. This isn't.
I cannot believe that this has anything to do with a stepper driver. The position of the Z axis is more than accurate enough. Not that I can change the stepper driver even if I wanted to. I'm still using the original PCB which came with the printer with several modifications. The stepper drivers are integrated in the PCB. There are a few of them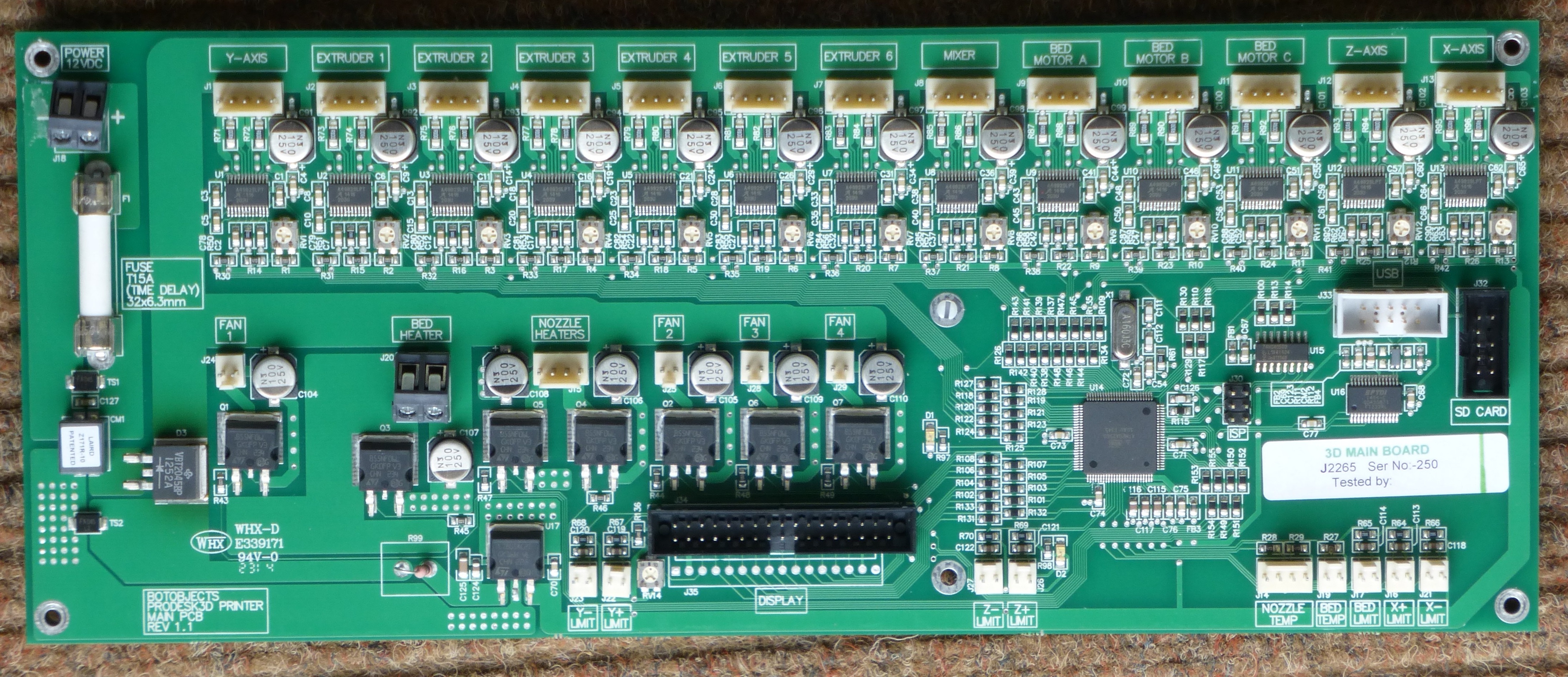 ---
Who is online
Users browsing this forum: No registered users and 2 guests